Resideo is hosting a contest for customers to win one of 20 $2000.00 gift cards to Golf Town!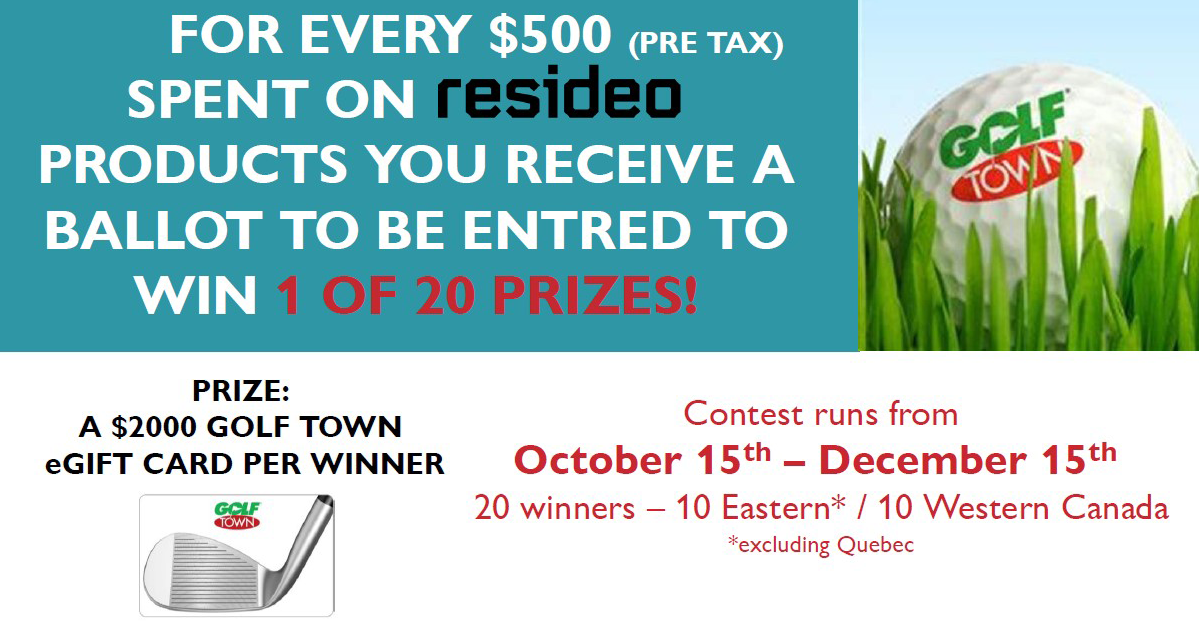 1. Limit one entry per qualifying purchase. Qualifying purchases defined as: for every $500 (before tax) spent with Emco Corporation on Resideo products one electronic ballot in your name will be entered electronically into the draw. winners will be drawn: 10 from Eastern Canada (Ontario east of Thunder Bay, and Atlantic Canada) and 10 from Western Canada (Ontario west of Thunder Bay, Manitoba, Saskatchewan, Alberta and British Columbia).
2. No purchase required. To enter without purchase, email your name, address, daytime and evening telephone numbers and email address to golftown@emcoltd.com
3. All individuals who are Canadian residents (excluding residents of Quebec) and have reached the age of majority in his/her province of residence are eligible to enter, except employees, volunteers, representatives, and agents of Emco Corporation, their subsidiaries, affiliates, advertising, promotion and other agencies, and persons domiciled with any of the above.
4. Twenty prizes will be awarded after The Week of January 3-7th , 2022. The prizes consist of one $2000 GolfTown E-Gift Card, Each E-Gift Card has an approximate value of $2000.
5. To be confirmed as the winner the selected entrant must first have correctly answered a mathematical skill testing question and comply with the contest rules. All prizes are subject to availability. Emco Corporation reserves the right to substitute a prize or any component of a prize in the event of its unavailability for any reason.
6. Entries will be automatically electronically generated for each qualifying purchase. The contest opens October 15th 2021 at 12:00 pm local time. Entries will no longer be accepted after 5:00 pm local time on December 15th, 2021. No responsibility will be taken for lost, stolen, misdirected, delayed, destroyed or illegible entries. Any attempt to deliberately undermine the legitimate operation of this promotion is a violation of criminal and civil laws, and should such an attempt be made, Emco Corporation reserves the right to seek remedies and damages to the fullest extent permitted by law, including criminal prosecution. All entries become the property of the Emco Corporation, and will not be returned.
7. Your chance of winning will depend on the number of entries received.
8. Prizes are not transferable or convertible to cash and must be accepted as awarded. The selected entrant will be contacted by phone.
9. The entrant selected to win each prize must sign a declaration of compliance with the Contest Rules and a release to obtain the prize.
10. A random drawing will be held from all eligible entries. In the event that the selected entrant cannot be contacted by phone within 7 days of being selected or does not otherwise comply with these contest rules, the prize will be forfeited. A spoiled entry or an incorrectly answered entry will result in another draw until a qualified winner is determined.
11. By entering, winners agree Emco Corporation, may use the winner's name and/or photograph, without compensation, in any advertising or publicity. This contest is subject to all relevant laws.
12. By providing personal information to Emco Corporation, the entrant consents to the collection and use of such information for the purpose of administering the contest, or if agreed to by the entrant, for the purpose of receiving product and service information.
13. Recipients may be required to sign a declaration and release.